Home


Bamboo Panflutes


Wood Panflutes


Children Panflute


Accessories


Panflutes in Stock


References


Video


History


Price List


Contact

Following, the most diverse panflute players around the world report on the quality and
characteristics of the Ulitza panflute.
The pictures are links to the websites of the musicians:



Jeanne Gollut / Switzerland
Je joue régulièrement sur des flûtes « Ulitza » et je trouve que ce sont de très bons instruments. Leur timbre a beaucoup de caractère et on peut ainsi jouer avec beaucoup d'expressivité ; les sons graves sont particulièrement beaux! Les flûtes Ulitza ont aussi une grande amplitude sonore et permettent de faire de belles nuances. Enfin, elles sont très bien construites : solides, belles, les finitions sont précises, la sonorité est régulière sur toute la flûte, les embouchures sont confortables. Elles sont aussi légères, ce qui permet un bon confort de jeu. Je recommande ces instruments et je remercie beaucoup Ulrich pour son travail !
I play regularly on Ulitza panflutes and think that they are very good instruments. Its timbre has a lot of character and allows great expressiveness. Especially in the bass I like it very much! The Ulitza panflutes have great dynamics and allow playing with variable timbres. After all, they are beautifully built, accurate in surface and solid. The sound is very balanced and the polished section very pleasant. Their weight is quite light, which allows a good playing comfort. I recommend these instruments and I thank Ulrich for his work!


Elisabeth Niggl / Munich / Germany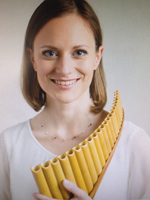 On the Ulitza panflutes, I appreciate the enormous possibilities of the differentiated sound design as well as the fullness, presence and warmth of the sound, the pleasant "handling" due to the light weight and the aesthetics of the excellently constructed panflutes (see for example a detail like the mahogany socket and maple).
I recommend the Ulitza panflutes with great enthusiasm!



Hansjörg Rechsteiner / Switzerland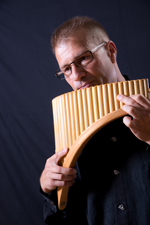 I and some of my pupils play Ulitza-Panflutes by Ulrich Herkenhoff, the renowned panflute virtuoso from Germany, with great enthusiasm. On these instruments, I appreciate the enormous sound presence through a full yet soft sound. The sound volume, the easy response, especially in the low registers, and a rich tonal modulation ability make this instrument for me to a master flute.



Georg Conradin / Switzerland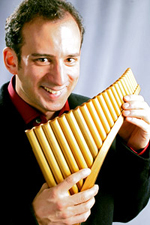 For more than ten years I play two Ulitza flutes specially built for me. Their sound corresponds exactly to my idea of a panflute: full, warm, a little rough. Even the lower notes can be played intensively. The flutes have a wealth of sound that allows expressive play. Nevertheless, the weight of the flutes is comparatively low, which is very pleasant when playing.


Wen / Taiwan
Herrwith I would like to introduce the Taiwanese friends to the Ulitza panflutes. So far, we have a total of twelve tenors and eight alto flutes, which are very high quality. The higher pitch is silvery and sonorous, the deeper is full and with beautiful resonance. Ulitza panflutes are therefore very pleasant and effortless. The Ulitza panflute is always our first choice!


李濬廷 David Tin / Taiwan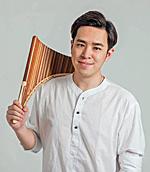 這是身為排笛樂手都需要擁有的一款排笛,除了外觀高貴典雅以外,
它還有良好的手感及絕佳的操控性,最重要的是它有著令人痴迷的音色,中
低音圓潤渾厚,高音通透不刺耳,無論是在演奏快或慢的曲子都有獨特的聲響,
適合各種曲風,真心推薦 Ulrich 這牌的排笛!好聲音!
In my perspective, every pan-flutist should own one ULITZA-Panflute. It is not only with elegant appearance, but also has excellent handling. The most important of all, it produces fascinating sound in treble, tenor and bass. Whether you play quick or slow melodies, it generates amazing notes and suit all kind of composing styles. I really recommend ULITZA-Panflutes to everyone!